By Dale Wayne Slusser
When we think of Asheville's booming 1920s' building frenzy, one architect stands alone as Asheville's premiere architect of the period: Douglas Ellington.  In fact, at least five Ellington designed buildings remain in downtown Asheville as noted historic architectural landmarks: the Asheville City Hall, S & W Cafeteria, First Baptist Church, Asheville High School, and Merrimon Avenue Fire Station.
Douglas D. Ellington was born in 1886 in Clayton, North Carolina to Jesse & Sally Ellington.  Ellington attended college at Randolph-Macon College, in Virginia and received his architectural training at Drexel University in Pennsylvania. In 1911 he went to Europe to supplement his education at the Ecole des Beaux-Arts. He completed his studies at the Ecole, just prior to the start of the First World War. After serving in the military in the "camouflage unit" during the War, Ellington returned to civilian life and secured consecutive teaching positions first at Drexel, then Columbia University, and finally at the Carnegie Institute of Technology in Pittsburg, PA.  It was in Pittsburg, that he began his own architectural practice, in 1920, with his younger brother Kenneth (a lawyer) serving as his office manager.[1]
In 1926, having obtained the commission for First Baptist Church, Ellington relocated his practice to Asheville.  It was the "roaring '20's", and Asheville was in the throes of a building frenzy. Asheville's built environment was growing so rapidly that the city fathers had to borrow heavily just to keep up with the needed infrastructure (water, sewer, power and streets).  But it was a great opportunity for a young architect, especially for one like Ellington with his extensive training and talent.  Within three years, Ellington had obtained the commissions for five major projects (not to mention other smaller projects): First Baptist Church (1926), Asheville City Hall (1927), Merrimon Avenue Fire Station (1927), Asheville High School (1929), and S & W Cafeteria (1929).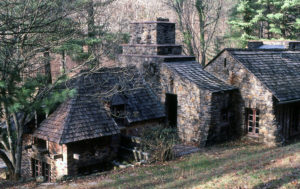 Ellington, though highly artistic, was also very practical and hands-on.  "Ellington often joined workmen on site to demonstrate how he wanted to place a stone or other element in a building."[2] This practicality and ability to think like a workman on the jobsite, is evidenced in the house that he built for himself in Chunns Cove.  Using found objects, and surplus building materials (from his numerous commissions), Ellington built a whimsical "storybook cottage" of stone and brick.  The ability to combine these extraneous materials into a creative and attractive home required the mind of an architect and the hands of a workman.
As quickly as success had come, just as quickly it all came to an end. The Great Depression of the early 1930's halted Asheville's building boom, and by 1932 Ellington found it necessary to move to Washington, DC to obtain work with the federal government.  In Washington he worked extensively on the design of a new town, Greenbelt, Maryland. This new "planned community" was sponsored and promoted under a Federal program begun in 1932 by President Roosevelt.[3]
In 1937, Ellington relocated to Charleston, SC and opened an office at 5 Exchange Street.  Although Charleston became his base of operations for the remainder of his life, and though he never permanently resided in Asheville again, he did return to the mountains for visits, and in fact took on numerous residential commissions in the Asheville area during the 1940's and 50's.  Ellington died of cancer in 1960, at his house in Chunns Cove.[4]
[1] Clay Griffith, "An Inventory of Douglas Ellington's Architectural Work in Western North Carolina", in May We All Remember Well, Volume 2. (Asheville, NC: Robert S. Brunk Auction Services Inc., 2001), p. 91.
[2] Ibid
[3] Ibid, p. 92.
[4] Ibid.