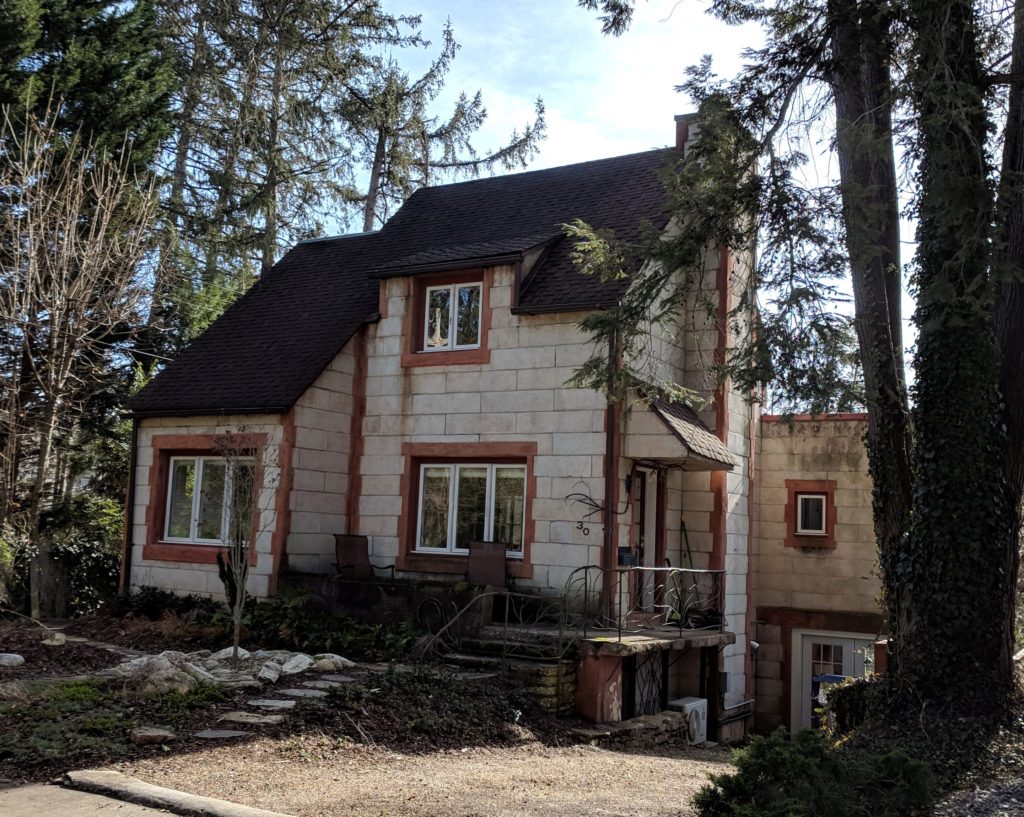 The construction of the house at 30 Norwood Avenue is as unique as was its creator and builder, Joseph Percy Threadgill, a real estate developer from Miami, who was simply known as "Percy". This unusual one-and-one-half-story-plus-basement, Tudor Revival house appears to be built of elongated concrete blocks. However, it is constructed using a unique "fire-proof" building system patented in 1929, by none other than Percy himself!
In 1916, the Central Development Company, developers of Norwood Park, sold Lot 106, at the end of E. Virginia Avenue (now Norwood Ave.) to real estate investor Joseph Selby. Selby two months later sold the Lot to builder/developers J. T. Bledsoe & Company. In March of 1918, Bledsoe & Co. sold the lot to a "steamfitter", William A. Russel, and his wife Annye, who I believe were planning to build their dream home on the lot. The Russells had moved to Asheville in 1916 from Forsythe County. But then sadly, just four months later, Annye, at the age of 31, suddenly succumbed from an acute appendicitis, leaving William and three small children. Although William remarried a few years later, and remained in Asheville, he never built on the property. William Russell died in 1928 leaving the Norwood lot as part of his estate. In 1930, Russell's widow and heirs sold the vacant lot to Floridians, J. P. & Ethel Threadgill.
Joseph Percy Threadgill, was born in 1893 at Fort Concho, San Angelo, West Texas, to Homesteaders, William & May Threadgill. In 1911, a devastating drought drove the Threadgills back east. Percy was 17 years old when his father packed the family onto a train and moved them east to Miami, Florida. The city of Miami, which was incorporated in 1896 just after the arrival of the railroad, by 1911, still only had a little over 5,000 residents. But soon, Miami exploded into a real estate boom that by 1920 would cause the population to swell to almost 30,000 residents. Percy, a young energetic optimist, decided after a brief stint as a postal clerk, to try his hand at selling real estate. Soon he was successful enough to open his own firm. By 1925, Miami had burgeoned to 110,000 residents, and Percy, who by this time had married Ethel Hamrick of Gaffney, SC, had become one of Miami's top real estate developers. He built a "coral rock" home for his family on NE 28th Street, just one block from Biscayne Bay.
Before the days of air-conditioning, the hot, humid, mosquito-infested summers in Miami would become unbearable, and so those who could afford to, would escape to cooler destinations, one of the most popular being Asheville, North Carolina. The Threadgills first summered in Asheville in 1925. It was then that Percy was, through an acquaintance, persuaded to purchase a huge 5,000-acre mountain tract in Cattail Creek, near Burnsville in Yancey County. With a developer's eye, he saw it as an attractive summer alternative for his monied Miami clients. This turned out to be an advantageous move for Percy, as the real estate boom in Miami would not last long. Upon return to Miami, Threadgill began marketing his new venture- "Hollywood Manor", advertising 50 ft. x 120ft. sized campsites, only 40 minutes from Asheville, and only $88!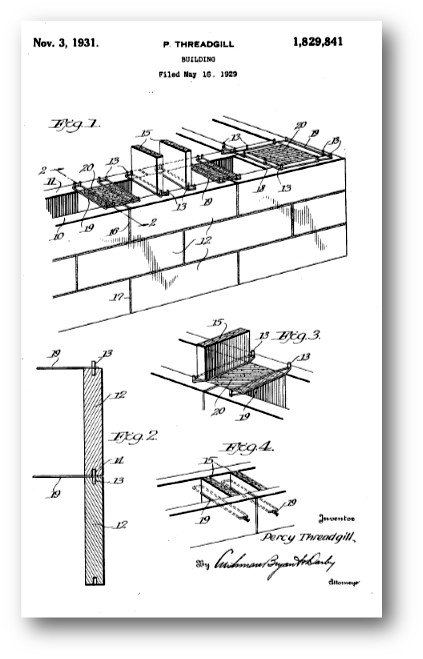 As the real estate boom in Miami been to slow almost to a halt, Percy had his mountain retreat to develop. Because the Cattail Creek property was rather remote at first, Asheville became the family's base camp when they would come to the mountains. In fact, when "Black Thursday" hit in October of 1929, the Threadgills were staying in Asheville. Ethel was in Mission Hospital following complications from the birth of their daughter Joan who had been born in August.
Although they did return to Miami, in November, after six months in Miami, little Joan was struggling to thrive. So, in June of 1930, Percy moved the family back to Asheville to Mission Hospital where he knew she would get the care she needed. A month later, Percy & Ethel purchased the vacant lot, which would become 30 Norwood Avenue.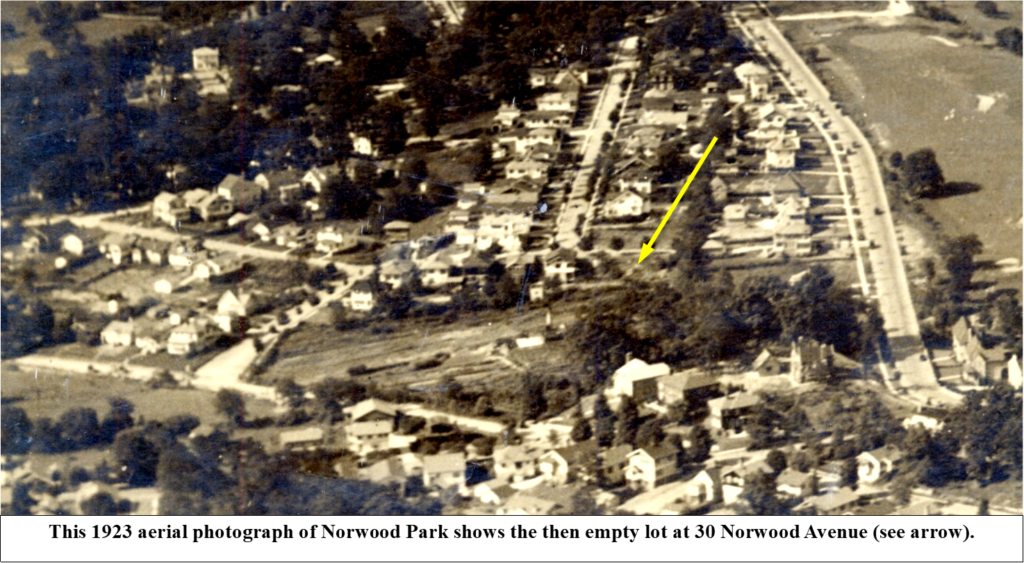 But Percy the builder/developer wasn't interested in just building a standard house. Percy, with real estate development at a standstill, and with time on his hands, found it a good time to concentrate on one of his pet projects- a "fire-proof house". In fact, the year before, in May of 1929, Percy, giving his address as "Burnsville, NC" had filed for a U. S. patent for a building system for construction of a fireproof building. Akin to the modern-day ICF (Insulated Concrete Forms) building system, Percy's system utilized "slabs or bricks of suitable dimension which may be formed of soapstone, serpentine, marble, or molded of concrete or other compound plastic", which combined with special pins and metal ring ties would be used to build a lightweight fireproof building. The beauty of Percy's system was that not only could the panels be of any fireproof material, concrete, stone, clay, or gypsum, but that the panels themselves, like the ICF system, could be used as the formwork for any intervening structural concrete columns or beams that may be necessary.
Percy began construction of the house immediately upon purchase of the lot. According to the recollections of his daughter Helen, Percy, who had a penchant for construction, and who often provided construction management on his real estate projects, did his own construction on the house at Norwood. This is evidenced by the 1931 Asheville City Directory, which listed him as "contractor".
Urban legend has it that the house was built by an engineer in the employ of E. W. Grove, and that the broken tiles used in the concrete floors came from construction of the Grove Park Inn. No way that this is could be true, as not only was the Inn built two decades earlier (1913), but Grove died in 1927. A more likely source for the tiles and bits of stone, in my opinion, were from the surplus materials left-over from Asheville's building boom which crashed shortly before Threadgill's arrival.
The home was completed by 1931, which was the same year that the city renamed Virginia Avenue to Norwood Avenue. Threadgills immediately moved into their new home at 30 Norwood Avenue. Now the family had three homes, Miami, Asheville, and Cattail Creek, to which they alternated their time. After construction of the house, Percy turned his attentions back to developing his land at Cattail Creek. Land rich, but cash poor, Percy defaulted on his construction loan from Reed Kitchen in 1933, so the house was sold and the Threadgills moved retreated to Cattail Creek,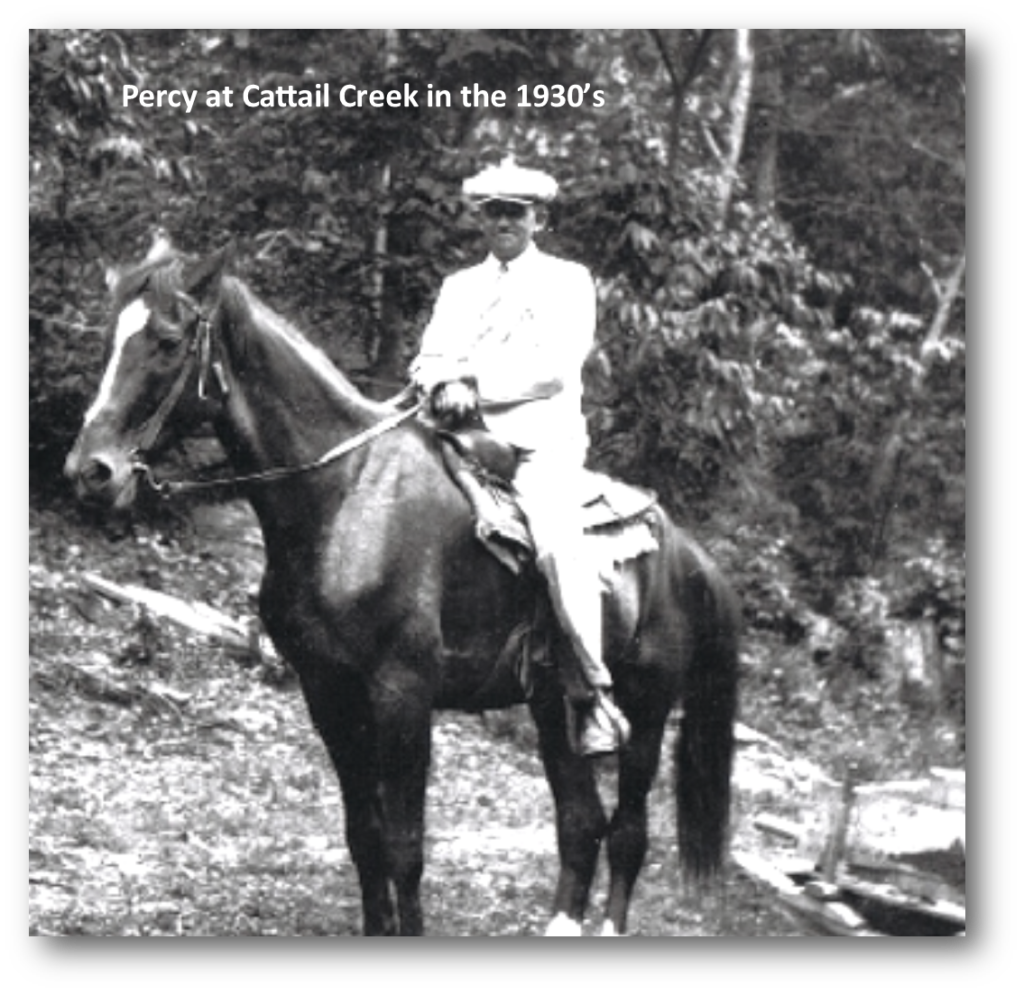 Since Threadgill's patent was granted in 1931, at a time when building construction was at a virtual standstill, I doubt that there were any other buildings built with his unique system. The house at 30 Norwood Avenue, now restored, remains as a testament to the genius and inventiveness of the man they simply called "Percy"!
For more information on Percy see: Percy by Helen Threadgill Baden at: http://www.blurb.com/b/2010482-percy