By: Caleb Owolabi
"He is happiest be he king or peasant who finds peace in his home." Many may know this to be the words of the great 18th century German writer and statesman Johann Wolfgang von Goethe. Even in his present time, Goethe knew that the presence felt at home entices all men and women alike regardless of background, race, or creed.
When my parents moved to the Asheville area some 24 years ago from a land thousands of miles away they knew they had arrived at a land filled with opportunity, beauty, and people with souls as beautiful as the temperate deciduous landscape surrounding them. It's true what they say, nothing can be more romantic than a time away in the mountains, and as if from a child's story book, on a small plot of land in a miniscule cabin like home in East Asheville was where I grew up. As a young African/American male– there were not many at my church, school, or extra-curricular activities who looked like me, of course I wasn't bothered because my surroundings were all I knew! And as the youngest of four it was in this small forest-enthralled cabin, filled with love and romanticism gushing from the pores of the parlor space, that I derived my perspective of life from my very culturally diverse parents who had gained admittance to the states to complete their higher education. My parents, immigrants from Nigeria, West Africa held in very high esteem three particular subjects; The first being faith, the second education, and thirdly art & art curation. They brought some of their own forms of Afriq-infused art into that southern Appalachian cabin home to teach us the importance of "remembering where you came from." Common themes within our humble abode were that of the great Fela Kuti, a 1960's socially charged musician who spoke words of pride for his people, but also words of unity for all races of people. In Africa he is widely known for being the first global recording artist of their kind to traverse most continents with his craft of music and social justice.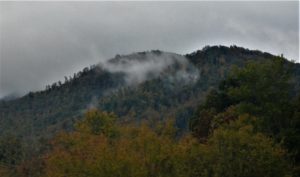 As a young boy, many a times after school I would lose myself some bright-glistening afternoons in the tall protective trees of the mountain-scape. I would pretend I was a naturalist in a foreign land, someone like David Attenborough and the backyard was my undiscovered phylum kingdom. I was always curious and always learning due to my parents overwhelming influence and unsatiated thirst for education. Fast forward to the start of my 10th grade year at Owen High-school home of the Warhorses and I have just been accepted to an all-expense paid, state funded, magnet high school known as The North Carolina School of Science and Mathematics; a school based in Durham North Carolina. Leaving early for boarding school matured me quickly, challenged me mentally, and prepared me for the highly involved career I would later have as an entrepreneur. But leaving early to North Carolina's high tech and student populous research triangle, and then experiencing college in the Piedmont of NC– brought me to understand how much more unique and amazing my childhood was in the beautiful mountains of Asheville. I had recognized the historic monumental landmarks before: The Vance Monument, Pack Square, The Jackson Building, The Thomas Wolf Memorial, Grovewood Village, Eagle Street Markets district and several more– but my encounter with the Preservation Society Asheville has brought me to seriously internalize the greater significance of these landmarks, to them I am very thankful.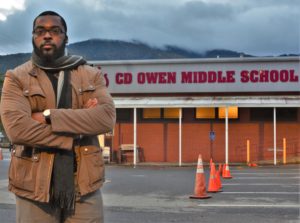 Some of the most historic and famed landmarks are the most important to me because I grew up driving by them every single day! One being Owen Middle School on Old US Hwy 70, Swannanoa, NC where I attended 6-8th grade. Before the current middle school was a middle school it was actually built to be a High School. I remember many of my teachers explaining how it once was in the halls of then Owen High School. Even High School ball games were still played there up until about 2008 when the new Owen High School stadium was built and I was just entering High school. The school was founded in 1991 with the consolidation of Black Mountain Middle School and Swannanoa Middle School. The school is named in honor of Charles Dexter Owen, who arrived in the valley from New Bedford, Massachusetts in 1924 and began operation of the community's first industry: Beacon Blankets. (cdoms.buncombeschools.org).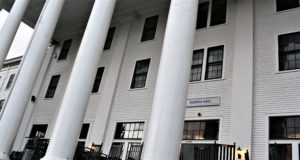 Then there is the famous Lee Hall at the YMCA Blueridge Assembly where I spent a many early teenage summers working at their conference center as a food service and conference services employee. lets just say I learned some hard lessons on the value of hard work and money management during those summers(chuckles). Lee Hall is situated on a national historic district located near Black Mountain, Buncombe County, North Carolina. Named after the famed civil war general Robert E. Lee, and was built in 1911-1912 by Louis E. Jallade.   One of the most outstanding features of this neoclassical, plantation-style building are the eight, three-story wooden columns, all of which were fashioned in the Midwest and were brought by train to Black Mountain. The rest of the wood in the building came from timber harvested right from Blue Ridge property, which totaled over 1,500 acres at the time! (YMCABlueridgeAssembly.org).
As a kid much of our recreational activity I remember revolved around my Father's work as a tenured professor of business & marketing at Montreat College. I remember a couple summers where my father had an office at the In The Oakes where the famed Manor Home lies. The manor home… well was a manor home built for industrialist Franklin S. Terry between 1919 and 1923, the 24,400-square-foot, five-story, 67-room home incorporates natural materials to complement its rural, small-town setting just off N.C. 9 Vance Avenue.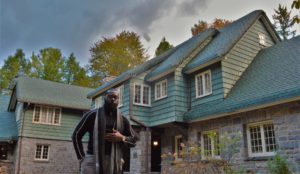 Hidden behind stone entrance gates designed by the firm of Asheville's most prominent early 20th century architect, Richard Sharp Smith. The property included an English garden, golf course with four greens and fairways with an underground irrigation system, tennis court, barn, stable, well house, firehouse, and caretaker's cottage, most of which can still be observed today. (www.blackmountainnews.com) I vividly remember that summer, because when we would have college BBQs my siblings and I would make believe that we were characters in one of our favorite book and movie growing up: Anne of Green Gables and frolic in the courtyard and hemlock flourished garden until one of us fell, scraped our knee and put a stop to our fun for that day. Memories I can never forget!
Today I am thankful for the experiences I had as a young boy growing up in Western North Carolina, the friends I made, and the lens I was able to see life through. Because of my upbringing in the embracing Blue Ridge Mountains, I was better prepared to empathize with other folks of differing languages, experiences, and interest. Today I work as an independent consultant and more famously, have produced such productions related to Fashion, Film, and Performance Arts in the Southeast. In these fields one might find a safety net in establishing a career in the immensely dense, and highly innovated Notorious 5; New York, London, Milan, Tokyo, or Paris France… but I have found security in being based in Asheville, North Carolina and a form of richness and wholesomeness to my style and choice of visuals for my projects. I am thankful for Asheville and that is why I can never, ever, forget where I came from.
**Have a story for your business that you'd like to illustrate through the use of video or editorial but not certain how to get started?Please contact Caleb directly at caleb080@gmail.com for a free consultation!